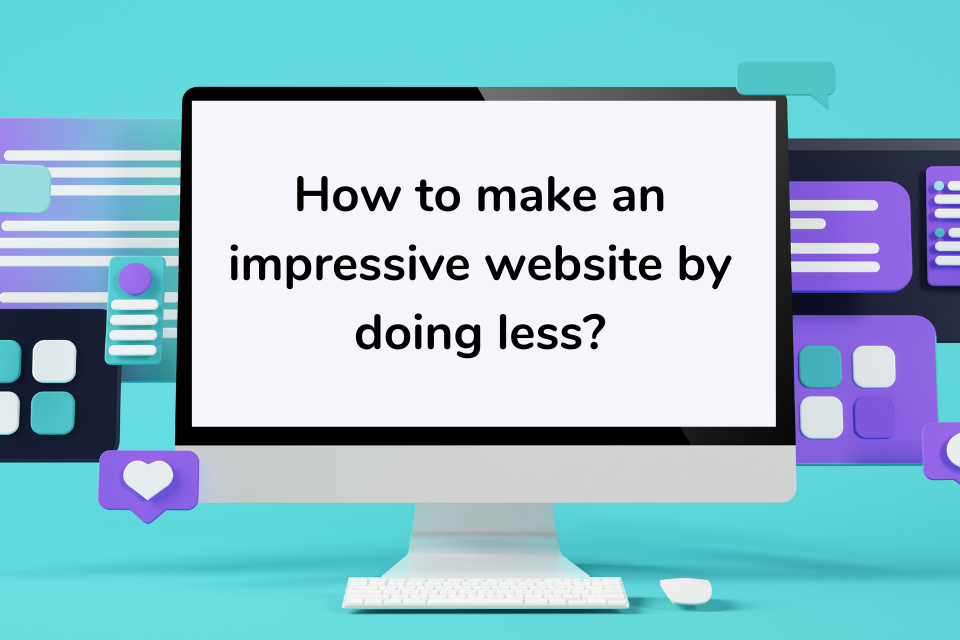 How to Make an Impressive Website By Doing Less?
Do you want to make an impressive website? Do you know how much work is involved in website design, website development and marketing? It's a lot. Too much for most people who would like to create their own website but don't have the time or funds to do so. The good news is that there are ways of making your website look more professional without all the hassle. In this blog post, we will discuss some effective tips that will help you with creating an impressive website by doing less.
Simple strategies that will help you with creating an impressive website
Websites are considered to be crucial marketing tool that will help your business to operate well. Having website is not enough. It has to be impressive and attractive that will help you with attracting more audience and making them loyal customers. If website does not look good, it will simply lose the attention of its users. Keeping this in mind we have gathered few important things that everyone should consider when designing a website for their business.
Keeping your homepage design simple and clean: Designing website is not an easy thing. You should always keep in mind that you have to use few important things only. One of them is keeping your homepage simple and clean. Your website users will simply lose the attention if they find too much information on your website, so it would be better to add relevant and necessary content on the website rather than adding irrelevant information.
Keeping website navigation simple: Website with complicated menu and links are difficult to use as well as they offer an unplanned surfing experience, which is not a good thing for your website. Before designing the website you should always think about how user would navigate through it because if users can't find what they want then they will start loosing their interest in website.
Invest your time in making website responsive: Whenever you create a website then you should make sure that website should be responsive. Many website users surf the websites only through their mobile devices so it's important for your developers to create a responsive website so that user can view it properly on all types of screens and operating systems.
Add a memorable content: If you want to create an impressive website that will attract more customers then you should focus on creating a user-friendly content. According to research website users are more likely to visit a website if they remember the content or brand. Thus, you should make your website memorable by creating a great content that will stick on the memory of visitors.
Stick to standard layouts: Whenever you create website you should stick to standard layouts. For example, the headers of website pages should be at top and websites menu on left-hand side would make it easier for users to navigate through website page links. Therefore sticking to a familiar website design tropes and layouts will make it easy for your website to stand out in front of your visitors.
Include the right amount of images: Images are a great way to engage website users and increase traffic on site. Make sure you include photos in blog posts that will add value. However, if the image is too big it can disrupt visitor's website experience. Use the right amount of images to engage website users and increase traffic on your website. Whenever you add images in the website then you should make sure that you include "alt tags" for all of your website photos, videos or illustrations. An "alt tag" is a short description of each image used in webpages and helps search engines to better understand your website.
Add direct attention to visual cues: Visual designs and layouts can be used to better direct website users attention. For example, if you want website visitors to look at a certain section or image then this website feature is called "cues" and it will bring user's eyes as well as their attentions towards that specific part of your page which you would like them to see.
Use real images: Using real website images in your website is a great way to keep users engaged. A website with high quality images that visitors find engaging will increase the likelihood of them coming back again and also sharing it on social media platforms.
Use large fonts: Large, easy-to-read font sizes are very important when trying to create an impressive website because they help users to focus on the website content and understand it better. Besides that, adding proper call to actions on the websites will definitely help website visitors to follow through with their goals.
Take leverage of social proof: Website visitors are more likely to trust website content placed by other website users. Social proof is effective in creating an impression of authority on the website and this will definitely help website owners to get their message across website visitors more efficiently.
Your website is a representation of your company. You want it to be an accurate reflection of all that you do well so people will trust in what you have to offer. These are some useful tips for creating an impressive site that provides customers with everything they need while also giving them a reason to stick around and explore more about who you are and what you can provide. By following these useful tips, you will be able to achieve long-term success online. We have a team of website developers and designers who are eager to create an impressive site for your business—one that converts visitors into leads. Give us a call at +91-9718991797 or email us at info@gamavis.com. We are committed to making sure that every customer gets exactly what they need when they need it most.